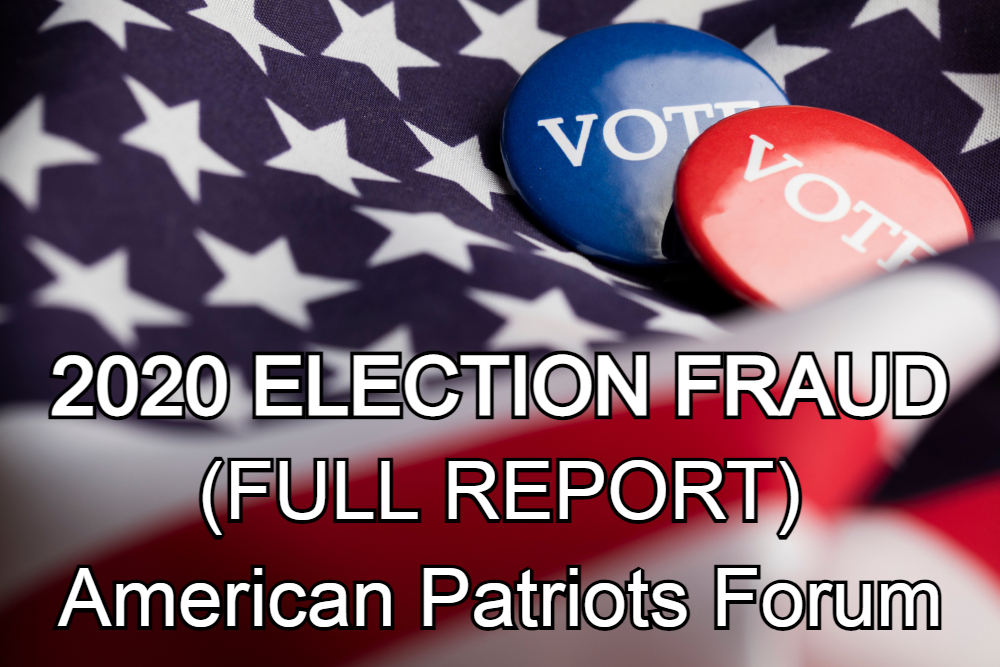 2020 US PRESIDENTIAL ELECTION FRAUD LAWSUITS
View Cases
---
The most significant claims of 2020 election miscounts, errors or fraud.
Read Update
---
MARICOPA COUNTY, ARIZONA AUDIT

Watch the Maricopa County, Arizona audit LIVE 24/7:

https://azaudit.org/
====================================================
This map below was found on a Dominion server in Frankfurt Germany. This is what a Red Wave Landslide looks like. Trump 40 States / Biden 10 States.

NOTE: This electoral map shows the real Electoral vote count of real "legal" votes at the time the polls closed in the United States on 11/3/2020.

There was a US Military operation that took place in Frankfurt Germany, they confiscated a server that was connected to the Dominion servers in the United States. The server in Frankfurt Germany was the main server in the worldwide Dominion/Smartmatic network.

This server contained the real Electoral vote map at the time the polls closed in the United States so, they knew how many votes were for Trump and how many "fake" votes they needed and in what states to win the election.

This US Military operation and this map was confirmed by Sidney Powell who works with the Trump legal team.

---
The Greatest Crime Ever Committed Against the United States:

President Trump won the election and many in our government committed treason. They tried to overthrow our President and the United States Government. The crimes committed is treasonous and those involved will be tried in Military Courts/Tribunals. U.S. Elections are part of critical infrastructure, the same as our Nuclear Command Center.

President Trump and the military have gathered enough evidence that not only communists in China, but communist parties and others in Italy, Spain, Germany, Canada and the UK were involved in changing Trump votes to Biden through Dominion Voting machines at CIA offices in Frankfurt Germany.

Foreign Election Fraud is an active State of War against The United States. Our President and Military is not going to let America fall into the hands of Communists.

Director of National Intelligence (DNI) John Ratcliffe published an election fraud report, Director of the Office of Trade and Manufacturing Dr. Peter K. Navarro investigated the 2020 election results and published a three volume Election Fraud Report, American attorney, former federal prosecutor, and military intelligence expert Sidney Powell has published two full election reports. And Mike Lindell, the CEO of My Pillow has put together an election fraud documentary titled "Absolute Proof". You can read or view all the election reports below:
Evidence documented by Dr. Peter Navarro. Must Read:
Dr. Peter Navarro has documented the evidence that will be used against those who took part in the Foreign Election Fraud with foreign nations.

#1 The Immaculate Deception - 12/18/2020:

Read Report



#2 The Art of the Steal - 1/5/2021:

Read Article



#3 The Navarro Report Volume III Final - 1/13/2021:

Read Article



-
Evidence documented by Attorney Sidney Powell. Must Read:
#1 Sidney Powell's 21-page Executive Summary of the Foreign Interference in the 2020 U.S Presidential Election

Read Article



#2 Attorney Sidney Powell's 270 Page Report (Full Report)

Read Article



-
Evidence documented by the Italian government regarding US election involvement.
BOMBSHELL: Italygate - The Italian government was directly involved in the US election fraud against Trump



Read Article



-
DECLASS DNI Ratcliffe Report ICA Foreign Threats to 2020 Election
Read Article
-
Mike Lindell - Election Fraud Documentaries
#1 Absolute Proof: Exposing Election Fraud and the Theft of America
Watch Absolute Proof Documentary
#2 Scientific Proof: Exposing Irrefutable Election Fraud and the Theft of America
Watch Scientific Proof Documentary
#3 Absolute Interference: The sequel to Absolute Proof
Watch Absolute Interference Documentary
#4 Absolutely 9-0: Forensic evidance & proof of election fraud!
Watch Absolutely 9-0
-
Kill Chain - The Cyber War on America's Elections (Full Documentary)
Watch Kill Chain Documentary